Welcome to Megamalai.co.in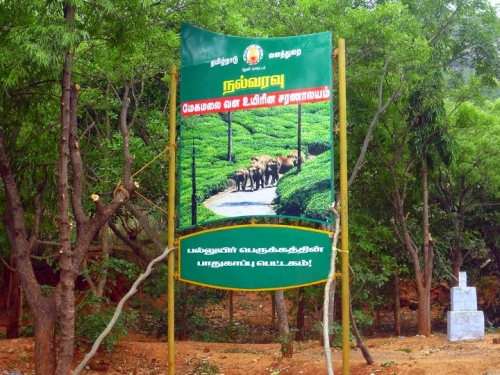 Advertisement
Travel is a part of every person's life. It may also be habitual to many. Travel and tourism gives us entertainment, experience, enjoyment, happiness and many more that could be called contentment.  There are many modes of travel. Some like to travel in trains, some like to travel in buses, some like to travel in cars, some like to trek, etc. But, traveling gives us joy whenever and however we travel. Tourism is now being subjected into various categories and some of them are nature tourism, adventure tourism eco tourism, health tourism and the like.
Tourism is to put it simply is a plank for expanding our knowledge, improving our health and more importantly to realize the nature and we being a part of it and our convergence with the gift of god. And the traveler sees the meaning of life in all its diverse forms in the little plant and shrubs, the big and small brethren in the jungles and in the music of the little brooks and the roar of the wild. It is here amidst the wildness you discover serenity and the purpose to life.
Traveling is always an adventure to those who love it. It keeps our mind free and is a great reliever of stress. Apart from entertainment, travel also keeps us fit by exercising our body. One of the scenic places in Tamilnadu, South India is Meghamalai which translates into High Wavy Mountains.
Meghamalai is situated and sits atop at 1500 meters above sea level in the misty Western Ghats. This lush mountain range is home to cardamom plantations, tea estates and is rich in flora and fauna in all its diversity and beauty. The region is now under tea plantations, the most popular being Highways, Cloudlands and Manalar estates. Apart from the tea and cardamom estates the area is filled with green virgin forests.
The traveler needs to traverse eighteen hairpin bends to reach the peak. These hairpin bends are daunting and need to be tackled deftly. The specialty of these hairpin bends is that each of them has a distinct flower name. It takes about three and a half hours to cross the demanding distance of about thirty kilometers. Jeeps and off road vehicles are needed to undertake the journey on the rugged roads as luxury sedans will not withstand the hazardous route and the going will be bad.
Advertisement
Megamalai Wildlife Sanctuary is a proposed buffer for Periyar Tiger Reserve and Grizzled Squirrel Wildlife Sanctuary This being implemented in 600 square kilometers in the forest will alleviate and maintain the area and reduce illegal cultivation of ganja (Cannabis sativa) control poaching and indiscriminate use of chemical pesticides and maintain and manage watersheds scientifically. This will help conserve the environment and retain the eco balance system.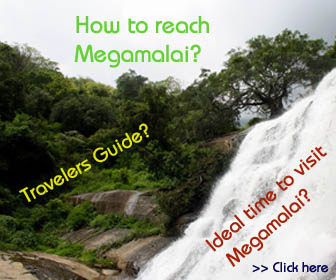 Advertisement