Places to visit in Megamalai: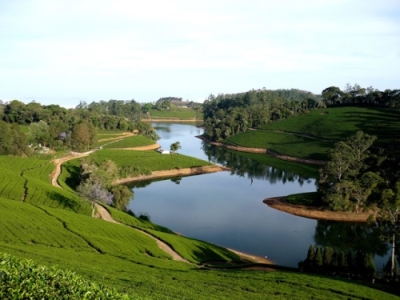 Advertisement
Tea estates in Megamalai

Large tea estates, coffee plantations and spice garden are bountiful in this region. Most of these are private owned properties.  The Highwavys Estates is a part of The Woodbriar Group. Ponsiva Plantations, Feildmede Estate and Ananda Plantations have the biggest stake of plantations in the Megamalai region. Kandana Coffee Estate is located atop the High Wavy Mountains. To have a complete view of the Varusanadu mountain range the ideal view point is Highways. 
Megamalai Dams
Six dams are important tourist attractions which originate from Megamalai Mountains,and most popular among them is Suruli Theertham.  The traveler can view the Cumbum Valley and the far flung villages situated in the Theni district from Manalar Dam. Highway Point Dam is another important landmark in this region. The Department of Tourism has plans to implement ferry service at these locations to give a better experience to the tourist.
Valleys in Megamalai
Cumbum Valley, 
There are three main places in Cumbum Valley; they are Maharaja Mettu, Iravangalaru and Upper Manalaru. One can view the imposing high density of forests cover here peopled by rich flora and fauna.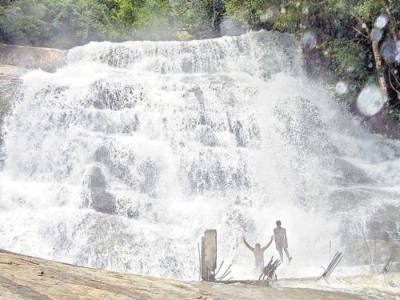 Falls in Megamalai
Meghamalai Falls occurs on the Surali River and is a popular place to visit in Meghamalai. Megamalai falls is also called as Cloud lands fall and there is a specialty for this falls. The water falls in two separate places to form a twin falls for about 190 feet right through the year is a truly awesome sight for viewer.
Being perennial the falls are frequented by wild animals like spotted deer, elephants, gaur and other denizens of the forests at sunrise and sunsets to slake their thirst. The forest department personnel assist the tourist to have a view of the animal's visits. 
Megamalai Forests
The density of the forests located in the Megamalai region makes it the natural habitat and domicile for myriad animals, reptiles, insects, birds and butterflies  Rare plants and herbs flourish in this locality and these have been in study for healthcare and other purposes.
Advertisement
Vellimalai Mountain in Megamalai
Vellimalai (Silver Mountain) got this name from its appearance of clouds resting at the top of the mountain. The silver tinted clouds are a splendid sight and give the viewer the picturesque effect as they gently rest atop the treetops and green hills. This location is ideal for sighting wild animals and exploring the nature that abounds here. Tea plantations that are scientifically managed are aplenty in this area.

The elevation of this place is about 5,400 feet above the mean sea level and it is situated in the heart of Megamalai and it is here that the river Vaigai originates.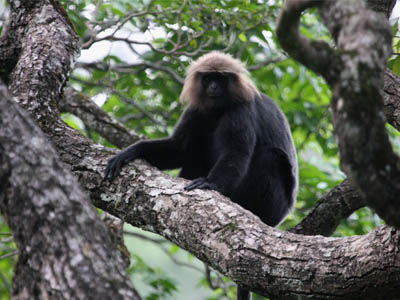 Places to see around Megamalai
Kumli is the border town through which you can reach Munnar. Travelling 85 kilometers from Megamalai we can reach Thekkadi in Kerala.
Advertisement